We are proud to provide our customers with
quality products and service!
Here are what some of our satisfied customers
have to say about us: ______________________________________________
We have been a distributor for Wayne and Nancy at Sew-Fab Ltd.
for over 10 years . In those 10 plus years we have sold thousands
of their Spare Tire Covers to Automotive Dealers in the
Metro Detroit area. The quality has always been exceptional,
the service has been superb, and to top it off, their prices are
usually the best around.

I would highly recommend Sew-Fab LTD. as a valued manufacturer.
Sincerely, Bob Mann, Revolutionary Print Management
______________________________________________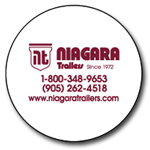 Sewfab are the best, most reasonably priced supplier for tirecovers, A/C covers and tireguards.
Henry Epp, Parts Manager, Niagara Trailers


About Us
Sewfab has been supplying quality covers to the automotive and R.V. industry since 1999. With a customer base of well over 500, we have become a major provider of tank and tire covers and R.V. accessories in Canada and the U.S. Our quality products and customer service have become the foundation for our success.
Our commitment to quality and growth will ensure you get the best product and service available, always!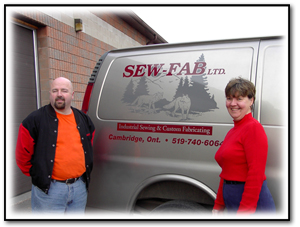 The owners, Nancy and Wayne Doyle have been working in the
textile sewing and manufacturing industry for over 25 years.